Excluding the historic presidential election, the most momentous news in the long-term and post-acute care industry these days is a final rule released by the Centers for Medicare & Medicaid Services (CMS) in September, which began taking effect in November. Whether you're in operations, clinical, financial, admissions or IT, it has implications for you.
The Final Rule to Reform the Requirements for Long-Term Care Facilities is a massive collection of new, revised and restructured regulations that touches nearly every aspect of nursing home operations – including resident assessments, quality improvement, data collection and utilization, and staffing levels.
According to CMS, the requirements, which apply to long-term care facilities and states that wish to participate in the Medicare and Medicaid programs, have not been updated substantially since 1991 "despite significant changes in the industry." Found at 42 CFR 483 Subpart B, the original conditions of participation outline everything that a nursing facility must do to be certified under Medicare and/or Medicaid.
So hulking is the rule that CMS officials presented a webinar and provider call on Oct. 27 that explained the purpose of the rule, its intentions and plans for its roll out. Sheila Blackstock, deputy director of the Clinical Standards Group at CMS, noted that the agency had a number of things in mind when writing the rule. "Perhaps first and foremost are person-centered care and quality," she said. "These [rules] reflect our understanding that both facilities and resident populations in the long-term care settings are very diverse. So, everything we did, we tried to remember that as we did it."

So: what changes are in store for providers? The new rule:
Expands the definition of psychotropic medication, which identifies a number of additional medications with similar properties, such as hypnotics and antipsychotic medications.
Prohibits the use of pre-dispute, binding arbitration agreements. Such agreements are no longer allowed as a condition of admission and may not be entered into with the residents at any time. Please note, however, that arbitration is allowed and may be offered when a dispute arises. There are some conditions that must be met once the arbitration agreement is offered, such as the agreement must not be contingent upon the resident, or resident's representative, signing a binding pre-arbitration agreement.
Requires all facilities to employ (at least part-time) an "Infection Control Preventionist," who has specialized training, examines infection control issues within the building, links any issues to the Quality Assurance and Performance Improvement plan, and serves as a point person for reporting of any infection control issues.
Improves care planning and discharge planning that includes the facility's interdisciplinary team, and takes into consideration the caregiver's capacity.
Encourages facilities to identify opportunities to streamline data collection and exchange, using data that are already captured electronically.
Requires facilities to develop and implement a discharge planning process that focuses on each resident's discharge goals. In addition, the process must also prepare residents to be active partners in post-discharge care, effective transitions, and in the reduction of factors leading to preventable readmissions.
With more than 9,800 public comments, Blackstock noted on the webinar that CMS made "a number of revisions to those proposed requirements in the final rule" and the finalized provisions "reflect advances in the theory and practice of service delivery and safety."
Related to the new regulatory requirements, CMS also announced recently that it will implement a new survey process as the rule is rolled out over the next three years.
According to Evan Shulman, deputy director of CMS' Division of Nursing Homes, the new survey will be computer-based, much like the Quality Improvement Survey. Shulman, who spoke on the webinar about how the new process will be implemented, noted that that it was "natural to have the new survey process launched along with the implementation date of Phase 2," which is Nov. 28, 2017. What's more, Shulman says the new process will include "as much flexibility as needed so surveyors can feel that they can investigate issues when they need to."
CMS created an online training program for regional offices, state survey agencies, and providers that launched on Nov. 28, 2016.
Given the nature and magnitude of changes in the rule – such as the number of quality assurance and improvement provisions – clinical, operational and administrative personnel should all be prepared to become more educated on it to remain compliant over the course of its rollout.
For more resources designed for SNFs, visit the ABILITY Resource Center.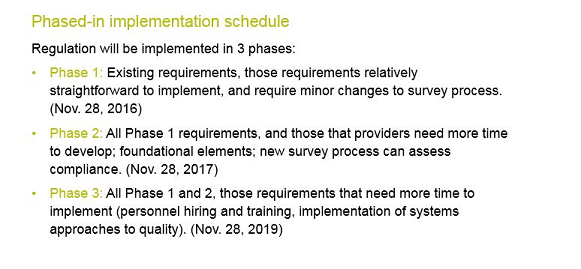 To see the provisions included in each phase of implementation, click here.
The post Major skilled nursing facilities regulatory overhaul to be phased-in over three years appeared first on ABILITY Website.